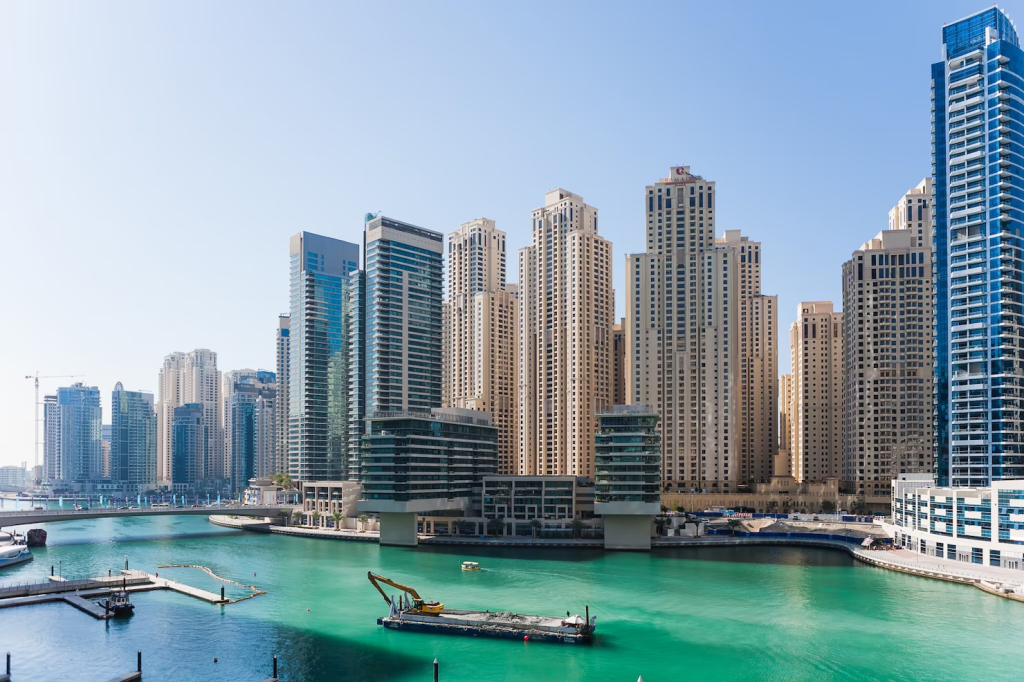 Why invest in Dubai? Top 10 Reasons in 2023
Key Features
Dubai's reputation as a hub for luxury, entertainment, and commerce has gained global recognition, becoming an investor's attraction.
Strategic location of Dubai as a gateway between regions like Europe, the Middle East, Africa, and South Asia also appeals to business and trade.
Dubai's commitment to innovation and infrastructure projects positions it as a progressive city, nurturing professional growth and opportunity.
The city's modern infrastructure, transport system, communications, and innovative solutions, offers a high quality of life and attracts foreigners.
The government is dedicated to safety, politically and personally, provides an environment of stability and security to invest in Dubai.
Amidst regional volatility, Dubai's steady economic growth and stability are reassuring factors for professionals and investors.
Corporate leaders are drawn to Dubai's attractive business ecosystem, propelled by tax incentives and growth prospects.
Dubai's diverse landscape and strategic geographical location attracts businesses to invest in a global hub. The remarkable transformation throughout its history, the city now stands among top cities for business and a vibrant cosmopolitan haven for shopping and leisure.
The appeal of Dubai as an investment destination for foreign stakeholders is accentuated by its seamless connectivity to pivotal markets spanning Asia, Africa, and the Middle East. Moreover, its robust ties to major international business centers across the Americas and Europe further enhance its appeal. This piece will delve into the core factors that make Dubai a compelling choice for investment. Let's embark on this exploration and find the reasons to invest in Dubai.
1. Strategic Location
Dubai functions as a pivotal passageway connecting the Eastern and Western hemispheres, offering convenient entry to emerging markets across Asia, Africa, and the Middle East. Dubai stands as a global nucleus for commerce, serving as a portal to expanding markets. This status has been diligently nurtured by the Dubai Government, positioning the city as the ultimate global hotspot for swiftly advancing enterprises that defy geographical limitations.
With infrastructure designed for the future and a mindset centered on growth, Dubai has adeptly harnessed the advantages of its geographical placement. This has led to the city becoming a gateway to a staggering two-thirds of the world's most alluring growth markets.
2. Fast Growing Economy
Dubai boasts a historical renown as a trading epicenter, dealing in an extensive array of goods. Amidst its growing technological landscape and forward-looking endeavors, Dubai remains an unwavering example, beckoning those with aligned aspirations. Individuals who seek to wield a positive impact on the worldwide market dynamics are irresistibly drawn to its dynamic sensation. This city's trajectory is engraved by its technological sector and its pioneering strides.
Driving this majestic journey of growth Dubai is a strategic blend of ceaseless innovation policies. It is an insatiable appetite for investing in the unforeseen, and a resolute ambition to clinch the mantle of the world's foremost technologically advanced nation.
The captivating narrative of Dubai's sustainable ascent stands as a testament to its relentless spirit and its aspiration to chart uncharted territories in the realm of technological advancement.
3. World-Class Infrastructure
Dubai offers a higher rental yield than other global markets. According to a survey, you can get 5% to 8% rental yields for an apartment in Dubai and 4% to 6% for a villa. It is higher than London, Sydney, Singapore, and Hong Kong. Some of the areas where you can invest in Dubai are Discovery Gardens, Dubai Marina, International City, and Dubai Hills Estate.
By investing in rental properties, you can get a good return on your investment. If you are looking to invest in Dubai rental property, consider the location, size, quality, management, and maintenance cost. Always do your research, and consult a professional before investing in rental properties.
4. Business-Friendly Policies
Dubai occupies a commanding position among the globe's foremost business centers, and its hospitable approach to business renders it the favored destination for both worldwide and regional corporate headquarters of the most sizable conglomerates. Enriched by a commitment to innovation and technology, Dubai propels forward the productivity and human well-being, culminating in its role as a pivotal player in the ever-evolving panorama of global commerce.
Dubai's appeal to investors and companies remains steadfast, grounded in a foundation of robust legal architecture of corporate governance. The city's statutes and guidelines exhibit transparency, adaptability, and an unwavering dedication to safeguarding the rights of both entities. The city accentuates its unwavering reputation as a reliable bastion for investment and business endeavors to invest in Dubai.
These tax incentives, combined with world-class infrastructure and strategic location, make it ideal to invest in Dubai. Property agents in Dubai play a pivotal role in facilitating real estate transactions and guiding investors through the dynamic market landscape.
5. Tourist Attraction
Being exceptionally affluent both economically and in terms of tourism, it offer a plethora of captivating attractions to invest in Dubai. These range from an array of opulent hotels, pristine resorts, sun-kissed beaches, and meticulously crafted routes for organized tours. The possibilities are diverse, and businesses can seamlessly integrate and operate within this multifaceted tourism landscape.
Venturing into the tourism domain in Dubai necessitates adherence to specific protocols in order to effortlessly establish a tourism enterprise with 100% foreign ownership.
Dubai receives an annual influx of over 14 million visitors, cementing its status as a paramount global and regional tourism destination. This influx significantly bolsters the UAE's economic landscape, with its opulent infrastructure, high-end shopping venues, towering skyscrapers, iconic seven-star hotels, and architectural marvels like the Burj Khalifa.
As businesses from around the world seek to invest in Dubai, the need for commercial spaces remains robust, presenting investors with a diverse range of opportunities. Explore these 6 trending Emaar projects for sale until 2023 and seize promising real estate investment opportunities.
6. World Global Events
Favorable global perception stands as a pivotal requisite for garnering foreign business ventures and tourists in a specific nation or urban center.
Hosting international gatherings presents a golden opportunity to showcase to the world, whether through direct encounters or observations relayed via international media, the myriad offerings of both the city and the country. This endeavor encompasses leveraging local infrastructure, transportation systems, accommodations, dining establishments, attractions, and services, infusing a much-needed financial boost into the local economy.
Crafting an international event of grand proportions for millions of attendees hinges on the presence of a well-established, efficiently-operating, and meticulously-maintained amalgamation of public and private infrastructure.
By firmly positioning itself as a highly coveted destination for global events, Dubai not only amplifies the revenue-generating capacity of local businesses but also generates tax proceeds that can be channeled back into the advancement of the city's infrastructure.
Discover the allure of 6 trending Damac projects for sale until 2026, opening doors to captivating real estate investments.
7. City Of Innovation
With its visionary outlook, Dubai nurtures an environment that propels innovation and business models fortified against future challenges. Within its realm, the city proudly hosts a dynamic network of startup incubators and accelerators, alongside inventive regulatory sandbox programs tailored for crafting and piloting pioneering technological business models.
Globally, Dubai stands as a paragon, securing the top spot in foreign direct investment (FDI) and the dissemination of technology within the AI and robotics sectors.
Moreover, the emirate operates under the aegis of a progressive government agenda, unfurling an experimental proving ground to test and refine concepts in real-world scenarios. Ever since its inception, the Smart Dubai Office has spearheaded more than 130 initiatives in conjunction with governmental and private sector collaborators, shaping the landscape of innovation with each step.
Discover a multitude of apartments for sale in Dubai that present not just a living space, but a compelling investment opportunity. With the city's robust rental market and consistent demand for quality accommodations, these apartments offer the potential for attractive rental yields and long-term appreciation, making them a strategic addition to your investment portfolio.
8. Safety and Stability
The city has embraced a collaborative approach to policy formulation, resulting in regulations that not only attract investors but are also geared toward nurturing profitable growth and safeguarding intellectual property.
The administration of public institutions extends to the vigilant enforcement and oversight of policy implementation, with a particular focus on streamlining to invest in Dubai. Every policy is thoughtfully calibrated to harmonize with the needs of businesses, guaranteeing flourishing economic growth in pivotal sectors and offering an unparalleled experience to investors on a global scale.
In a world characterized by escalating geopolitical uncertainties, Dubai stands as an unwavering pillar of political, economic, and social constancy in the region. This steadfast stability fortifies the resilience of businesses over the long term. Anticipating, preparing for, and actively mitigating potential risk sources form the cornerstones of Dubai's proactive strategy to ensure unwavering investor confidence. This commitment to stability magnifies the city's allure as an investment hub amid tumultuous times.
Elevate your investment strategy with penthouses for sale in Dubai, representing the pinnacle of luxury and exclusivity. These penthouses not only offer a lavish living experience but also present a unique opportunity for high returns. With Dubai's growing reputation as a global destination for high-end travelers and executives, penthouses can serve as premium short-term rental properties, contributing to a lucrative investment venture.
9. Tax Free Zones
Dubai's business-friendly ambiance has pioneered the establishment of free zones, which facilitate 100% foreign ownership. Uphold tax-free policies, economical setup and renewal procedures. At its core, Dubai's free zones represent distinct geographical enclaves within the country's borders.
Within these designated zones, the trading of goods, services, and commodities occurs without the constriction of onerous customs regulations. In many instances, companies that establish their presence within free zones benefit to invest in Dubai. From minimal taxation or even complete exemption from it.
In truth, the city offers a plethora of cost-effective and flexible packages tailored to businesses of varying sizes. This becomes particularly apparent when juxtaposed with the costs associated with setting up a business within the Mainland jurisdiction
Embrace the world of real estate investment by exploring the exquisite villas for sale in Dubai. Beyond their architectural grandeur and luxurious amenities, these villas hold the promise of substantial returns on investment.
10. Quality Of Life
Dubai has soared to the forefront of coveted global destinations. Driven by a blend of zero income taxes and a comparably reasonable cost of living. Its affordability has garnered international recognition, making it a magnet for a diverse spectrum of individuals, encompassing not just young professionals but also corporate leaders and families drawn by its vibrant yet attainable lifestyle.
In a region occasionally marked by turbulence, it is secure and steady bastion to invest in Dubai. Its reputation extends beyond political and macroeconomic steadiness. It consistently ranks among the world's top havens for personal safety according to global experts.
Dubai's unparalleled quality of life propels it as a matchless nucleus for investment. A host of world-class dining establishments, a luxurious lifestyle, picturesque coastlines, seamless connectivity, and cutting-edge entertainment and recreational amenities collectively fortify the city's reputation as an inviting haven for foreign investors.
Dive into the realm of investment with townhouses for sale in Dubai, where modern aesthetics meet community-oriented living. These townhouses not only provide a comfortable living environment but also offer an avenue for generating rental income. The city's diverse tenant base, including expatriates and professionals, ensures consistent demand for well-located and well-designed townhouse properties.
Final Thoughts
Dubai's allure has surged remarkably, primarily due to its zero income taxes and the relatively reasonable cost of living. Attracting proficient experts on a global scale. The city's reputation appeals a diverse young professionals, families, and corporate leaders to invest in Dubai. Amidst an occasionally unpredictable regional context. Dubai emerges as a symbol of safety and stability. Presenting not only steadfastness in political and economic realms but also consistently securing high rankings in terms of personal security.
Dubai's extraordinary standard of living and its array of captivating amenities position it as an optimal destination for investments. Celebrated for its exceptional dining experiences, opulent lifestyle, picturesque beaches, seamless connectivity, and state-of-the-art recreational offerings, Dubai garners substantial favor among foreigners who aspire to invest in a thriving and delightful environment.